Couples Resorts
Close
Book On
Couples-resorts.co.uk
For the Best Price
Free
Excursions
Free Golf
+ Scuba Diving
+
No Fault Cancellation
Roundtrip transfers
from the airport
Gold, Silver & Bronze – Taste of Jamaica Awards
Friday, Nov 15, 2013
Jamaica is renowned for many wonderful things. Its beaches are a beautiful site to behold, the weather is wonderful all year round, and the music continues to be magnificently melodious (with styles ranging from Calypso, Reggae and Soca). The food is considered the finest, not just in the Caribbean, in the whole world. It's no wonder, as Jamaica boasts some of the top chefs in the Caribbean.
The 2013 staging of the Best Dressed Chicken Taste of Jamaica Culinary Competition was held in September over two days at the Montego Bay Convention Centre; where chefs from Jamaican hotels and cookery students participated in various categories. Couples Sans Souci and Couples Tower Isle took part in the culinary event, and after an incredible performance the previous year they proved that they have remained on top of their culinary competition game.
One of our previous posts already highlighted the talent and awards of pastry chef Teresa Clarke. Here's what else went down and a few more well-deserved shout outs to our tip top chefs at Couples Resorts.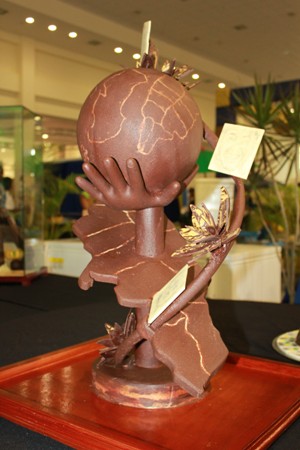 With over 18 categories in the competition, the team participated in the following:
• Bartender of the Year
• Junior Pastry Chef of the Year
• Chocolate Showpiece Competition
• Pastry Chef of the Year
• Senior Chef of the Year
• Senior Team Competition
• Ice Carving
• Cheese Cake Competition
Medals were received in all! Towards the end of the event, Couples Resorts took home 13 medals in Gold, Silver and Bronze; with gold medals received in the areas of Ice Carving, Cheese Cake and Pastry.
For the team event teams had to work together to prepare and serve a three course meal, in which Couples Sans Souci took home the bronze. The team consisted of Servers Vivian Panton and Euron Clarke, Bartender Bryan Angus, Chefs Marlon Mills and Andre Sanchez, and Pastry Chefs Teresa Clarke and Shekera Cassie.
Here are the results from the individual competition:
• Bryan Angus – Bronze – Beer Category
• Romario Bailey – Gold – Junior Pastry Chef
• Teresa Clarke Gold – Pastry Chef & Silver – Chocolate Showpiece
• Shekera Cassie-Gold – Pastry Chef & Cheesecake Category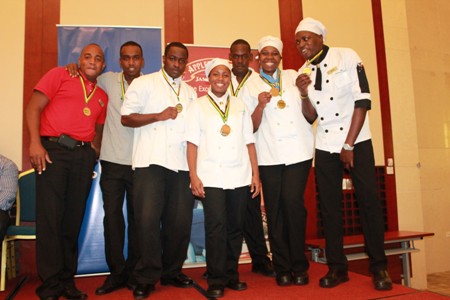 Couples Tower Isle's team, professionally led by Errol Sewell, also reigned supreme with the following individual awards:
• Errol Sewell – Silver – Pastry Chef & Gold – Cheesecake Competition
• Nesha Parke – Gold – Junior Pastry Chef Of the Year
• Vishane Brissett- Gold
• O'Neil Betty – Silver for Chocolate Showpiece
• Rohan Henry gold for Ice Carving and titled ice carver of the year
Other members of the Couples Tower Isle team included: Cooks Kevon Edwards and Lenroy Deans, Pastry Chef Cordhlia Dixon, Waiter-Travis Lowe and Romaine Barrett and Bartender Pasanga Ricketts.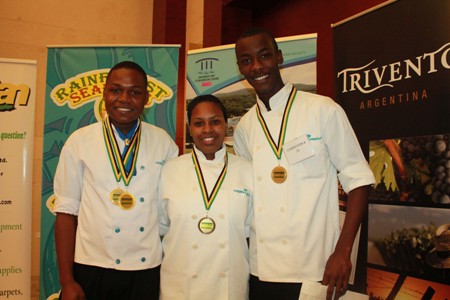 Linval Green, Regional Pastry Chef for both resorts, expressed his delight that both resorts successful in the competition, and also his pastry team were the recipients of ten of the 13 medals. He also noted that there are more great things to come in 2014.