Close
Book On
Couples-resorts.co.uk
For the Best Price
Free
Excursions
Free Golf
+ Scuba Diving
+
No Fault Cancellation
Roundtrip transfers
from the airport

Thrills Beneath The Sea
Whether you're an experienced scuba diver or just starting out, Couples' four oceanfront resorts have a dive experience that's right for you. In addition to our unlimited all-inclusive PADI-certified dives, we offer a wide range of certification programs and speciality dives, including night dives and private dives, that are priced separately. One dive and we think you'll agree: Couples operates the best all-inclusive resorts in the Caribbean.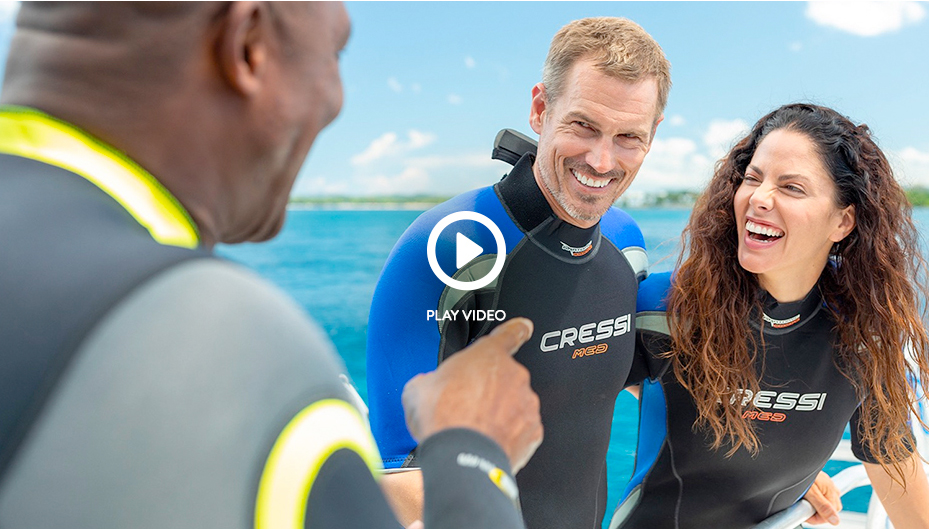 PADI DISCOVER SCUBA COURSE
Have you always wondered what it's like to breathe underwater? If you want to try scuba diving, but aren't quite ready to take the plunge into a certification course, Discover Scuba Diving is for you. This program is offered in a swimming pool, or off a beach or dive boat. While this is not a scuba certification course, Discover Scuba Diving is a quick and easy introduction to what it takes to explore the underwater world. No prior experience with scuba diving is necessary, but you need to be in reasonable physical health.
View medical questionaire
---
PADI SCUBA DIVER COURSE
The PADI Scuba Diver course is a subset of the PADI Open Water Diver course. If you're short on time but really want to become a diver, the PADI Scuba Diver rating might be right for you, particularly if you expect to go scuba diving primarily with a dive guide. This course is an intermediate step to earning an Open Water Diver certification, if that's your ultimate goal.
PADI Scuba Divers are qualified to:
Dive under the direct supervision of a PADI Professional to a maximum depth of 12 metres/40 feet.
Obtain air fills, rent or purchase scuba equipment and participate in dive activities as long as properly supervised.
Continue dive training by completing the PADI Open Water Diver certification and taking certain specialty diver courses.
To enroll in a PADI Scuba Diver course, you must have adequate swimming skills and be in good physical health. No prior experience with scuba diving is required, but you can try it first through the Discover Scuba Diving program.
---
PADI OPEN WATER DIVER COURSE
If you've always wanted to take scuba diving lessons, experience unparalleled adventure and see the world beneath the waves, this is where it starts. Get your scuba diving certification with the PADI® Open Water Diver course – the world's most popular and widely recognized scuba course.
To enroll in a PADI Open Water Diver course, you need to be in good physical health and have adequate swimming skills. No prior experience with scuba diving is required.
---
Academic
The PADI Open Water Diver course consists of three main phases:
Knowledge Development ( online, independent study or in a classroom) to understand basic principles of scuba diving
Confined Water Dives to learn basic scuba skills
Open Water Dives to use your skills and explore!
---
Equipment
In the PADI Open Water Diver course, you'll learn to use basic scuba gear, including a mask, snorkel, fins, regulator, buoyancy control device and a tank. The equipment you wear varies, depending upon whether you're diving in tropical, temperate or cold water.
---
PADI ADVANCED OPEN WATER COURSE
You don't have to be "advanced" to take the PADI Advanced Open Water Diver course – it's designed to advance your diving, so you can start right after earning your PADI Open Water Diver certification. The course helps build confidence and expand your scuba skills through different adventure dives. You try out different specialties while gaining experience under the supervision of your PADI instructor. You'll log dives and develop capabilities as you find new ways to have fun scuba diving.
Each Adventure Dive may credit toward the first dive of the corresponding PADI Specialty Diver Course. If you've already taken a specialty diver course, ask your instructor if you've earned credit for an Adventure Dive. If you're already an Adventure Diver, you only need to complete two more Adventure Dives to earn the Advanced Open Water Diver certification.
---
Academic
You'll plan your learning path with your instructor by choosing from a long list of Adventure Dives. There are two required dives – Deep and Underwater Navigation – and you choose the other three, for a total of five dives.
During the Deep Adventure Dive, you learn how to plan dives to deal with the physiological effects and challenges of deeper scuba diving. The Underwater Navigation Adventure Dive refines your compass navigation skills and helps you better navigate using kick-cycles, visual landmarks and time.
The other knowledge and skills you get vary with your interest and the adventures you have – photography, buoyancy control, fish identification, exploring wrecks and many more.
---
PADI RESCUE DIVER COURSE
Scuba divers describe the PADI Rescue Diver course as the most challenging, yet most rewarding course they've ever taken. Why? Because you learn to prevent and manage problems in the water, and become more confident in your skills as a diver, knowing that you can help others if needed. During the course, you learn to become a better buddy by practicing problem solving skills until they become second nature.
PADI Adventure Divers who have completed the Underwater Navigation Adventure Dive may enroll in a Rescue Diver course. You also need to have Emergency First Response Primary and Secondary Care (CPR and First Aid) training within the past 24 months. You can complete this training during the Rescue Diver course. Your instructor may also offer the PADI Emergency Oxygen Provider specialty diver course at the same time
---
PADI DIVEMASTER COURSE
Love scuba diving? Want to share it with others on a whole new level? Take the PADI Divemaster course and do what you love to do as a career. Scuba divers look up to divemasters because they are leaders who mentor and motivate others. As a divemaster, you not only get to dive a lot, but also experience the joy of seeing others have as much fun diving as you do.
The PADI Divemaster course is your first level of professional training. Working closely with a PADI Instructor, you'll fine-tune your dive skills, like perfecting the effortless hover, and refine your rescue skills so you anticipate and easily solve common problems. You'll gain dive knowledge, management and supervision abilities so you become a role model to divers everywhere.
PADI Rescue Divers who are at least 18 years old may enroll in the PADI Divemaster course. You also need to have:
• Emergency First Response Primary and Secondary Care (CPR and First Aid) training within the past 24 months.
A medical statement signed by a physician within the last 12 months.
At least 40 logged dives to begin the course and 60 dives to earn certification.
Note that qualifying certifications from other diver training organization may apply – ask your PADI Instructor.
---
PADI SPECIALTY DIVER PROGRAMS
Scuba diving is a way to explore the underwater world in new and different ways. PADI Specialty Diver courses teach you new techniques and give you the tools to enhance your exploration. Best of all, you can take courses while on a scuba vacation in Jamaica.
Specialty courses available here include:
Adaptive Support Diver
Adaptive Techniques
Boat Diver
Cavern Diver
Coral Reef Conservation
Deep Diver
Digital Underwater Photographer
Diver Propulsion Vehicle
Drift Diver
Emergency Oxygen Provider
Enriched Air Diver
Equipment Specialist
Fish Identification
Multilevel Diver
Night Diver
Peak Performance Buoyancy
Project AWARE Specialist
Public Safety Diver
Search and Recovery Diver
Underwater Naturalist
Underwater Navigator
Underwater Videographer
Wreck Diver
Distinctive Specialty
---
Pricing
While Couples Resorts offers unlimited PADI-certified group diving excursions, many of our guests wish to take their scuba diving experience to a new level. For your convenience, pricing for various additional experiences is provided here.
Scuba diver = $250 (40 ft maximum depth) complete in two half days (8.00am-12.00am)
Scuba diver upgrade to open water = $ 250
Open water = $375 (60 ft depth) complete in two half days (8.00am-12.00am)
Open water Referral = $300 (suitable for guests who only need to complete dives, pool work and bookwork is already completed)
Adventure diver = $210 (3 dives)
Advanced diver = $275 (5 dives, allows for diving up to 100 ft deep)
Rescue diver = $400
Divemaster, (PADI material not included) = $ 600
Divemaster Crew pak = $150
Assistant Instructor = $600 (PADI material not included)
Scuba review/tune up = $50 (for guests whose last dive was within 18 months, requires proof of last dive)
Night dive = $50
Private dive = $50
Lionfish hunting = $50
Lionfish certification = $150
Specialty courses = $200
Specialty dives = $75
Private DSD lesson = $75
Red/ blue log book = $20
Log book binder = $30
PADI material crew pak = $60
EFR = $100
Wetsuit daily rental = $10
E-learning $375 (for guests who've done the online studying only and need to complete pool training and ocean dives)
Locker rental (to store guest own dive equipment) = $5 daily or $20 for the week
---
*Couples offers two complimentary dives per day. Night dives are at an additional cost. Couples Resorts recognizes and accepts certifications of all dive agencies, not just PADI