Couples Resorts
Close
Book On
Couples-resorts.co.uk
For the Best Price
Free
Excursions
Free Golf
+ Scuba Diving
+
No Fault Cancellation
Roundtrip transfers
from the airport
Top Tips for Planning a Honeymoon to Jamaica in 2021
Friday, Jun 19, 2020
Are you planning a honeymoon to Jamaica in 2021? Boasting pristine waters, white sand beaches and delicious cuisine, Jamaica has everything a newly wedded couple could desire. In this blog, we've listed our top tips to help you plan your perfect honeymoon to Jamaica in 2021. Read on to find out…
Best time of Year to Visit Jamaica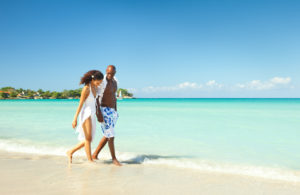 Our first tip for planning a honeymoon to Jamaica in 2021 is choosing the perfect time of year to visit. Jamaica's tropical climate means it's hot all year round. The temperature differs slightly between summer and winter months. Often, couples choose to visit the island during the winter when, on average, the temperature ranges between 27 ⁄ 30 °C during the day – perfect for relaxing on the beach, exploring the island and experiencing the famous food.
Is Jamaica Safe?
The simple answer is, yes! In fact, Jamaica is largely more affected by negative media coverage about safety than it is by crime. However, when travelling to any foreign destination, including Jamaica, it is always important to keep the same safety precautions that you would back home, including avoiding dimly lit areas at night and keeping your valuables safe.
Choose the Perfect Romantic Resort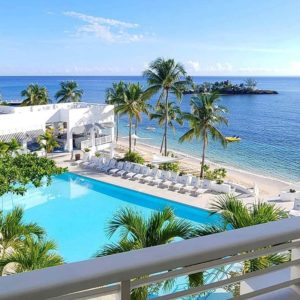 One of the most important tips for planning a honeymoon to Jamaica in 2021 is to choose the perfect accommodation. Couples Resorts have four legendary resorts in Jamaica from Ocho Rios to Negril, centred around one guiding philosophy: Romance is effortless when everything is included. Each oceanfront resort is the ideal setting for an unforgettable honeymoon. Check out our previous blog post to find the perfect resort to celebrate your honeymoon.
Enjoy Fun Activities with Your Other Half

Begin married life with memories to last a lifetime and enjoy incredible activities on your honeymoon. Jamaica is renowned for its unsurpassed scenic beauty and incredible sunsets. Experience all this and more with a Catamaran cruise along the Jamaican coastline with your other half. Catamaran cruises* are included at Couples Resorts, and each cruise includes drinks, sun and entertainment – the perfect way to celebrate your new life together.
*Not available at Couples Sans Souci. Minimum three-night stay required
Thank you for reading our blog Top Tips for planning a honeymoon to Jamaica in 2021. Are you dreaming of an unforgettable romantic getaway? Get in contact with Couples Resorts and start planning your holiday to Jamaica today.