Couples Resorts
Close
Book On
Couples-resorts.co.uk
For the Best Price
Free
Excursions
Free Golf
+ Scuba Diving
+
No Fault Cancellation
Roundtrip transfers
from the airport
Happy Birthday Couples Resorts!!
Monday, Feb 4, 2013
Two of our Couples Resorts' recently celebrated their Birthdays and everyone was invited to join the festival! Couples Sans Souci and Couples Tower Isle hosted a grand spree of the finest foods, drinks, sweets and savouries for all their guests; as the seventh successful year for these resorts was taking place, and guests were indulging in the many gourmet stations, our specialist musical talents entertained them long into the night…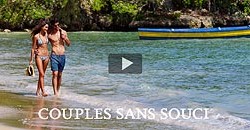 With no children to worry about, guests were free to do whatever they pleased on their all-inclusive adult only holiday. Each of our resorts here in Jamaica is culturally vibrant and represents a diverse Jamaican history; represented through the party themes, with Couples Sans Souci entertaining the European influences through a masquerade style with Venetian masks and Couples Tower Isle expressing the charming Caribbean culture with various sculptures and island favourite foods!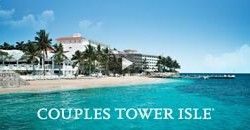 Wander through stone paving at Couples Sans Souci towards tropical gardens and natural springs, relax in the healing waters and open your senses to the fragrant foliage. Surrender yourself to the sublime surroundings, indulge in private Cliffside couples massages, or savour the tantalising Caribbean infused international cuisine as part of your all-inclusive adult only holiday…
Adorned with Palm trees, Couples Tower Isles provides a chic and elegant atmosphere with world-class services and 5* amenities, with endless opportunities this holiday is everything you make of it. Spend your days soaking up the sun on the pristine white beach, or enjoy thrilling water sports like windsurfing, snorkeling and even professional scuba diving with instruction as part of your all-inclusive holiday in Jamaica!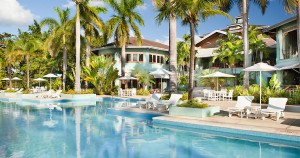 At Couples Resort our philosophy is very simple; we don't try to meet your expectations, but instead plan to exceed them with our all-inclusive couples holidays. Set along some of nature's moist stunning backdrops we pride ourselves in over 60 years' experience, our resorts bring you luxury with added value in some of the Caribbean most idyllic locations.