Couples Resorts
Close
Book On
Couples-resorts.co.uk
For the Best Price
Free
Excursions
Free Golf
+ Scuba Diving
+
No Fault Cancellation
Roundtrip transfers
from the airport
Wedding of Valentine's
Thursday, Feb 14, 2013
Home to shimmering sands, turquoise waters and breath-taking rainforests,  Jamaica embodies elite escapism. Valentine's Day has arrived and we find ourselves asking, "what better day would there be to profess your undying love for one another than on the day the world honours the Saint who elevated courtly love"? And where better to do this than at one of our five island resorts?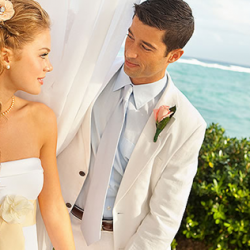 Concealed in the cliffs of the Emerald Coast and encircled by nature's most exquisite conceptions, Couples Sans Souci epitomizes amorous seclusion, and fashioning from it, is the perfect aura for your dream island wedding. And on that very special day, we aim to make it as perfect as possible by providing you with our resident wedding planner to cater to your every whim and wish.
Accommodating to a vast range of tastes and budgets, there is no stone our tailor-made wedding packages leave unturned, ensuring you get exactly what you want for the price you want it at. Whether this is exchanging your vows in the tranquil tropical gardens, in an intimate ceremony on our beaches shimmering sands, or on your own private island followed by a Grand Island fiesta, here at Couples Resorts we can cater to your every desire.
Discover island tranquillity with Couples Sans Souci at our all-inclusive adult only holiday resorts.