Couples Resorts
Close
Book On
Couples-resorts.co.uk
For the Best Price
Free
Excursions
Free Golf
+ Scuba Diving
+
No Fault Cancellation
Roundtrip transfers
from the airport
Memories to last forever…
Friday, Feb 22, 2013
Your wedding day is the most memorable day of your life, perfect in every way the day celebrates you, your partner and your love for one another. Having decided to hold your ceremony at one of our five boutique resorts in the Caribbean, it's only right to shout it out and share the fantastic news with your friends and family! With our dedicated Couples Wedding Announcement page, it's easy to share your news, pictures and feelings with friends, family and other couples.  The wedding announcement page also allows you to meet other couples through the threads, so you too can share in their happiness and create lasting friendships whilst holidaying.
Our onsite wedding planner and team of experts, can create the magical matrimony you've always dreamt of, whether you choose to have your ceremony amidst the beautiful botanical gardens, on the warm pristine beach as the waves tickle your toes, or aboard a luxury catamaran. Adorned with each detail covered, your wedding location along with your presence will leave your guests breathless as they watch you and your partner take your vows…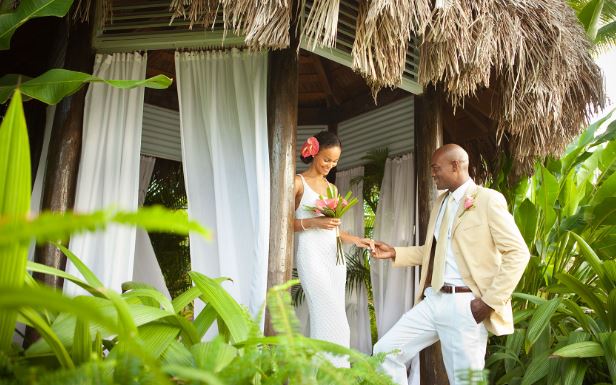 With many Wedding Packages available to suit every budget, you don't have to worry about any underage guests as our resorts specialise in all–inclusive adults only Caribbean holidays. Choose to have a rejuvenating facial or massage on the morning of your big day, to shake off any pre-wedding jitters, savour a sparkling wine toast on behalf of all the staff at Couples Resorts and smile for your wedding photo-shoot to create everlasting memories.
Our all-inclusive adults only holidays mean not having to worry about taxes, tips or gratuities; so leave your wallet in your personal safe in your hotel and enjoy the finest local and international cuisine, sip on the tastiest cocktails, beers, spirits and juices and dive into a world of excitement with our many activities and excursions.
So all you have to do is relax and enjoy the most special moments of your life…