Couples Resorts
Close
Book On
Couples-resorts.co.uk
For the Best Price
Free
Excursions
Free Golf
+ Scuba Diving
+
No Fault Cancellation
Roundtrip transfers
from the airport
Which Side of Jamaica Has the Best Beaches
Friday, Jul 10, 2020
Boasting miles of white sand and sparkling turquoise water, it's no secret that Jamaica is home to some of the best beaches in the world. To top it off, the island's tropical climate gives the perfect weather for these dream-worthy beaches to be enjoyed year-round. At Couples Resorts, we often get asked which side of Jamaica has the best beaches? Truthfully, not one single part of Jamaica has the best beaches. Incredible beaches can be found in every corner of the island. With so many to choose from, we've put together a list of some of the best loved beaches in Jamaica. Read on to find out…
Seven Mile Beach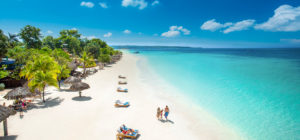 When people think which side of Jamaica has the best beaches, many would say Negril. This is because Negril is home to one of the most famous beaches on the island, Seven Mile Beach. Home to crystal clear water and white gold sand, it's easy to see why both visitors and locals enjoy spending time at Seven Mile Beach. Try out some water sports, have a bite to eat or simply enjoy the sand between your toes as you wander along this iconic stretch of Jamaican paradise.
Runaway Bay
Fancy something a bit quieter? Found just 10 miles from Ocho Rios, Runaway Bay is one of the most scenic areas in Jamaica and is home to some of the most incredible beaches in the Caribbean. Protected by a large tropical coral reef, these beaches see far fewer footprints than neighbouring beaches. The beaches in Runaway Bay are located only a stone's throw from Couples Sans Souci and Couples Tower Isle.
Dunn's River Falls Beach
Dunn's River Falls is one of Jamaica's national treasures and are one of the top attractions on the islands. Here, visitors can climb up to the top of the falls to enjoy some incredible views or, simply unwind at the Dunn's River Falls beach, located at the base of the Falls. Dunn's River Falls beach has a spectacular view of the flowing waterfalls. All-day beach access is included in the falls' entrance fee.
Bamboo Beach Club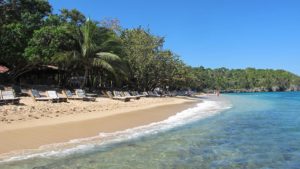 Located in Tower Isle, Ocho Rios, Bamboo Beach Club offers the ultimate Caribbean beach experience on its secluded private beach. Enjoy the sun, sea and sand amongst the beautiful tropical scenery as you lounge the day away here. Bamboo Beach Club is also famous for its spectacular cultural entertainment where visitors can relax and enjoy colourful Jamaican dancers and incredible reggae drums.
Thank you for reading our blog 'Which Side of Jamaica Has the Best Beaches?'. Are you dreaming of an unforgettable getaway? Contact Couples Resorts today and start planning your romantic holiday of a lifetime to Jamaica.