Couples Resorts
Close
Book On
Couples-resorts.co.uk
For the Best Price
Free
Excursions
Free Golf
+ Scuba Diving
+
No Fault Cancellation
Roundtrip transfers
from the airport
Giving back to the future of Jamaica…
Wednesday, Feb 20, 2013
The ISSA Trust Foundation is a very big part of the Couples Resort brand; you can call it the soul of the company. Established in 2005 the trust is a non-profit organisation created to provide Jamaican's with a better lifestyle.
The many programmes run by the organisation endeavour to provide a system of prevention for the individual, whether it is a promotion of health and education, a community health improvement scheme or health and well-being development programmes for the people of Jamaica. It is in our best interest to create an encouraging environment and education system, which coincide together so that we can work with families to provided safe, caring and nurturing homes for the young children of Jamaica.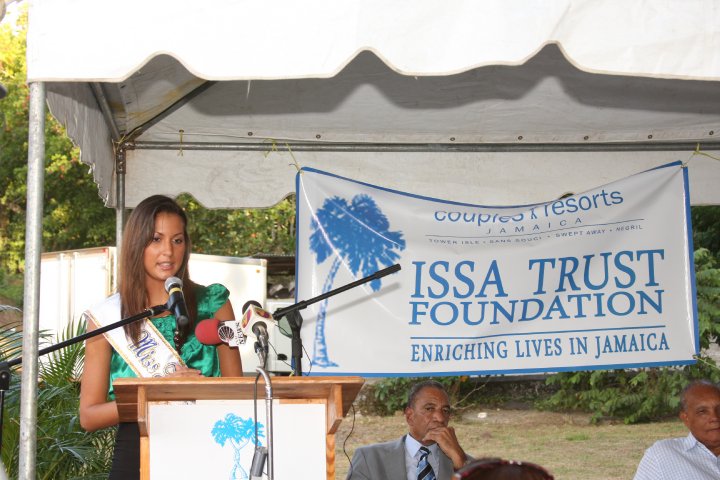 Miss Jamaica 2012 at The Issa Trust Foundation Annual Conference
Having collaborated with educational and professional services Couples Resorts' ISSA Trust proposes to emphasise the dangers of drug addiction and prevent it, the programme looks at providing stability for children by teaching key literacy skills and has a school and job counselling department to widen horizons.
The Issa Trust Foundation is named after the founder of Couples Resorts- Abe Issa,  who created the all-inclusive concept combining luxury, romance and value in 1978, often named 'The Father of Jamaican Tourism' he established Couples Resorts in 1949 at Tower Isle' and never looked back.
Today, a Couples Resorts holiday seeks to be your most romantic and adventurous break yet, our all-inclusive amenities and the intertwining Caribbean culture set against natural backdrops, create the perfect destination to enjoy your partner's company and reignite the spark. For our best deals on our all-inclusive couples holiday, log onto www.couplesresorts.co.uk or if you're thinking of getting married, why not make it a seductively exotic affair at any of our four resorts, with our wedding packages Jamaica .