Couples Resorts
Close
Book On
Couples-resorts.co.uk
For the Best Price
Free
Excursions
Free Golf
+ Scuba Diving
+
No Fault Cancellation
Roundtrip transfers
from the airport
Couples Resorts Guest Review
Wednesday, Jul 20, 2016
Maura Moloney from Dublin, Ireland, recently experienced the magic of Couples Resorts and was kind enough to share some of her thoughts with us following the trip.
This Couples Resorts guest review gives the perfect insight into what it's like to stay at our resorts. Maura stayed in Couples Tower Isle, located in Ocho Rios, and Couples Swept Away, located in Negril. Both resorts offer very different experiences, so what did Maura make of them? Read on to find out.
Couples Tower Isle
"Couples Tower Isle is most-definitely suited to lovers! After a long, but pleasant, journey from Dublin, on the brand new Thomson Dreamliner, our beautiful room was a welcome sight. The resort itself is amazing with a host of pools and a beautiful beach. There is plenty of privacy and lots of places around the resort to find 'your place'. During our stay the weather was in the 30's – perfect for the couples that frequented the separate nudist island!

There are plenty of amazing eateries with delicious food to choose from. The cocktail bars were always busy – particularly with us! The staff were incredible and make you feel very spoiled during your holiday.
One of the best things about Couples Resorts? The 'mini' bar – simply fill out a card with your tipple of choice and a litre bottle of said tipple will appear. Happy days!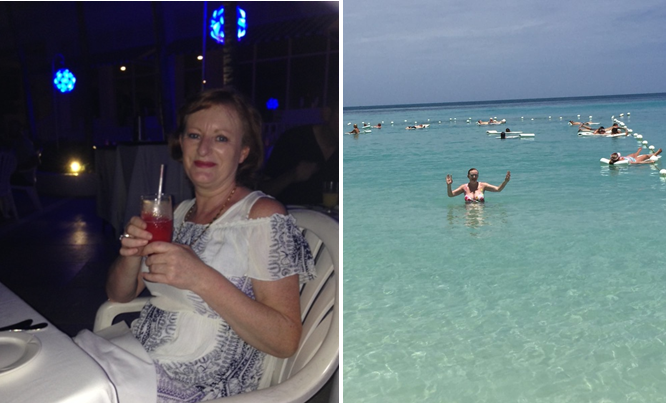 Couples Swept Away – Couples Resorts Guest Review
After a fantastic few days in Couples Tower Isle it was off to Negril and Couples Swept Away, where I was certainly 'swept away'!
7 miles of white sand, the clearest sea I have ever seen and welcoming warm waters with gentle waves – I was in heaven! Our accommodation was great with a huge veranda situated in tropical paradise. Couples Swept Away is a huge resort, dotted with cabanas and cocktail huts – the food was also to die for!
We did a few excursions during our holiday but the experience on the resort was so spectacular that we really didn't need to move a dot.
Overall I can only describe this stay as having died and gone to heaven. I'm not sure how any holiday will ever beat it!"
-Maura Moloney
(Converted Jamaican)
Have you stayed at Couples Resorts? Would you like to share your experience with us? Tweet us @CouplesUK and let us know!