Couples Resorts
Close
Book On
Couples-resorts.co.uk
For the Best Price
Free
Excursions
Free Golf
+ Scuba Diving
+
No Fault Cancellation
Roundtrip transfers
from the airport
Traditional Jamaican dishes to try on vacation
Friday, Apr 3, 2020
Jamaica is renowned for its tropical climate, vibrant culture and colourful food. So, why not make the most of your vacation to Jamaica and try some traditional Jamaican dishes on your travels? With plenty of incredible food to taste, we've decided to help. We made a list of the top traditional Jamaican dishes to try on vacation to help you discover the best. Read on to find out…
Ackee and Saltfish
Firstly, Ackee and Saltfish is the Jamaican national dish and one of the most traditional Jamaican dishes you can try. This delicious meal is made with salt cod, peppers, tomatoes, spices and ackee – a delicious pink fruit with a uniquely savoury taste. Ackee and Saltfish is commonly served as breakfast. Also, try it along with hard sourdough bread or dumplings for dinner.
Authentic Jerk Chicken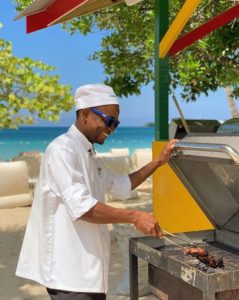 One of the most well known traditional Jamaican dishes is jerk chicken. While you may have tried this before outside Jamaica, we can guarantee it will not rival the jerk chicken you'll try here. Marinated to perfection, this mouth watering dish is a must-try while on vacation in Jamaica.
Callaloo
Callaloo is a traditional Jamaican vegetable dish. It is made with leafy green vegetables, onions, garlic, tomatoes, peppers and thyme. This delicious stew dish is often combined with saltfish or eaten with roasted breadfruit and is a very popular for breakfast. On top of being tasty it's also healthy – the best of both worlds!
Coco Bread
Coco bread is a popular bread in Jamaica made with coconut milk.  This buttery, slightly sweet traditional Jamaican dish is shaped to form like a folded bread so it's easily fill-able, ideal for a lunch sandwich. Also, try it with breakfast, dinner or as a tasty snack by itself.
Curry Goat
Curry goat is a slow cooked traditional Jamaican spiced curry, bursting with flavour and made with tender goat meat. While many people may shy away from goat meat, it is a much healthier alternative to other meats with less calories and saturated fats. This meat is slowly simmered in a blend of garlic, ginger, onions and hot pepper, making it the perfect dinner option on your vacation.
We hope you enjoyed our blog 'traditional Jamaican dishes to try on vacation'. Are you dreaming of a vacation to beautiful Jamaica? Contact us today and begin planning your holiday of a lifetime.