Couples Resorts
Close
Book On
Couples-resorts.co.uk
For the Best Price
Free
Excursions
Free Golf
+ Scuba Diving
+
No Fault Cancellation
Roundtrip transfers
from the airport
Top 5 Golf Courses in Jamaica
Friday, Apr 3, 2020
Calling all golf lovers… Are you jetting off to the beautiful Jamaica? Why not go golfing in paradise! If you're planning a tropical getaway, be sure to tee off in some of the best golf courses in Jamaica. Famous for offering incredible views, world-class golf and beautiful backdrops, read on and discover our top five golf courses in Jamaica…
1.     Tryall Golf Club, Montego Bay

Tryall's golf course is often referred to as one of the top golf courses in Jamaica, and it's no surprise why. Perched on the windswept coast, the course is technically challenging, stunning to look at and is never overcrowded. The golf course has also played host to many prestigious events and championships, including the Johnnie Walker World Championship for five consecutive years.
2.     White Witch Golf Course, Rose Hall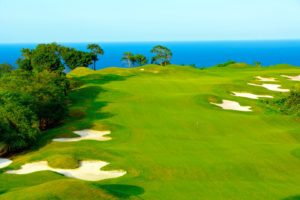 Carved from the rolling countryside of Jamaica's Rose Hall Plantation lies the White Witch Golf Course in Montego Bay, which is renowned for its mountainous terrain, cool trade winds, lush vegetation and incredible ocean views from 16 of its 18 holes. This championship course consistently ranks as one of the best golf courses in Jamaica and one of the finest in the Caribbean. In 2015 White Witch golf course was awarded "Jamaica's Best Golf Course" at the 2015 World Golf Awards, and also rated as the #1 Golf Course and #1 in Golf Shop Staff service by Conde Nast Traveler.
3.     Cinnamon Hill, Rose Hall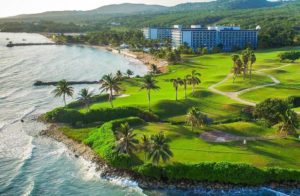 Cinnamon Hill is on of the golf courses in Jamaica not to be missed. It's famous for diverse terrain, coastal views and a perfect mix of both links style and inland golf. Masterfully designed and magnificently maintained, you can feel the ocean spray on your cheeks as you tee off next to the glistening Caribbean Sea and listen to the wind in the trees as you play holes 16 and 17, located an impressive 350 feet above sea-level. Look out for the course's waterfall, where James Bond: Live and let Die was filmed and the winter home of country music superstar Johnny and June Cash which can be seen from hole #14!
4.     Negril Hills Golf Club, Negril
Boasting 6,333 yards of stunning fairways, Negril Hills Golf Course is a true Jamaican beauty. The course features lush greenery, picturesque waters, a local feel and a challenging course. Is your other half not a golf fan? Don't worry because the golf club is also home to a tennis court and serves delicious drinks and food. It's also located next to Seven Mile Beach, the perfect place for you to unwind after your round of golf.
5.     Caymanas Golf Club, St. Catherine
The Caymanas Golf Course is renowned for being one of the finest golf courses in Jamaica and one of the best in the Caribbean. The 18-hole golf course, located outside Kingston, is known for testing golfers of all abilities. Enjoy the relaxing atmosphere, incredible views and unwind in the pool after your round of golf.
Thanks for reading our blog 'Top 5 Golf Courses in Jamaica'. Want to go on a holiday of a lifetime to Jamaica? Contact us and one of our staff would be delighted to help you start planning your trip today!