Couples Resorts
Close
Book On
Couples-resorts.co.uk
For the Best Price
Free
Excursions
Free Golf
+ Scuba Diving
+
No Fault Cancellation
Roundtrip transfers
from the airport
5 reasons to go scuba diving in Jamaica
Monday, Jun 25, 2018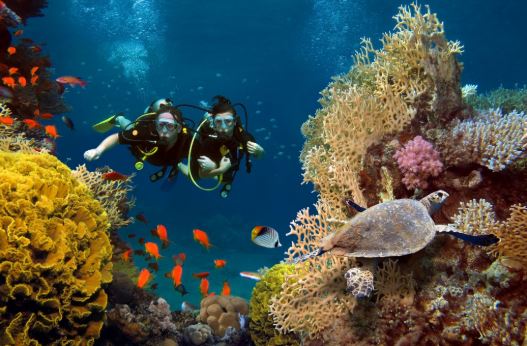 Scuba diving in Jamaica is one of the most popular attractions on the island. There are many stunning coral reefs to explore and colourful marine life to see. At Couples Resorts there is something for every level of the scuba diver, whether you are a beginner or advanced.  Here we share our top 5 reasons to go scuba diving in Jamaica! 
The Marine life
Schools of tropical fish, turtles, eels and rays can be found in Jamaica's Caribbean waters.  Divers can also go further out to see the occasional shark.  Jamaica's crystal-clear waters invite scuba divers to come back again and again, to explore and find new discoveries each time they dive.
The water
Jamaica's tropical weather has a terrific impact on the water. The average temperature is between 25°C / 77°F in the winter and 29°C / 84°F in the summer.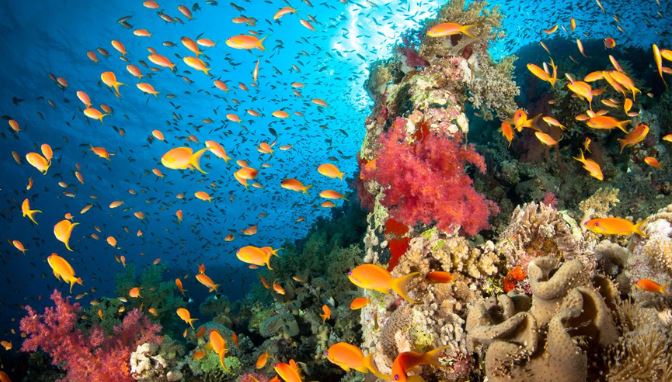 On average, the water visibility is usually between 70 and 100 feet (21 to 30meters). When the weather is especially good, it might exceed the 100 feet (30meters). This means the water is typically warm and the visibility is excellent. These conditions help drivers to feel at ease in the water immediately.
The diving instructors
At Couples Resorts, all of our scuba instructors are licensed. There is nothing they love more than exploring the underwater world with our guests. Friendly and knowledgeable, our certified PADI instructors will ensure that your dives are safe and enjoyable.
Scuba Dive Programme
Are you a certified scuba diver or do you want to learn how to scuba dive? Our scuba dive programme is exceptional and caters to both certified and uncertified divers.
Certified divers can enjoy a complimentary PADI dive once per day. Uncertified drivers can look forward to participating in a complimentary course and one complimentary introductory dive. At Couples Resorts, every dive is customised to allow guests to get up close and personal with sea life.
Popular diving spots – reasons to go scuba diving in Jamaica
Known as a diving paradise, Jamaica offers underwater adventures not to be missed. Guests can explore many different reefs along its coast.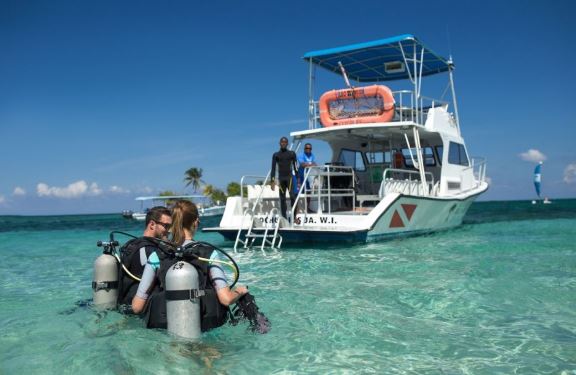 Guests can explore vibrant Jamaican reefs such as "Coral Garden," and "Fantasy Reef" where tunnels and caves provide bioluminescent displays and coral formations enchant with their colourful intricacy.
If you are a beginner, one of the best sites to try is the "Surprise Reef".  Here you will see turtles and parrotfish.
If you are an advanced diver be sure to visit "Shark's Reef", an out-of-the-way site where nurse sharks lounge and large stingrays rest on the sandy bottom. There is also a night dive for those who feel a bit more adventurous. On this dive, you can see stingray, octopi or spotted drum fish.
Did you learn to scuba dive in Jamaica? Tweet us @couplesuk and let us know!