Close
Book On
Couples-resorts.co.uk
For the Best Price
Free
Excursions
Free Golf
+ Scuba Diving
+
No Fault Cancellation
Roundtrip transfers
from the airport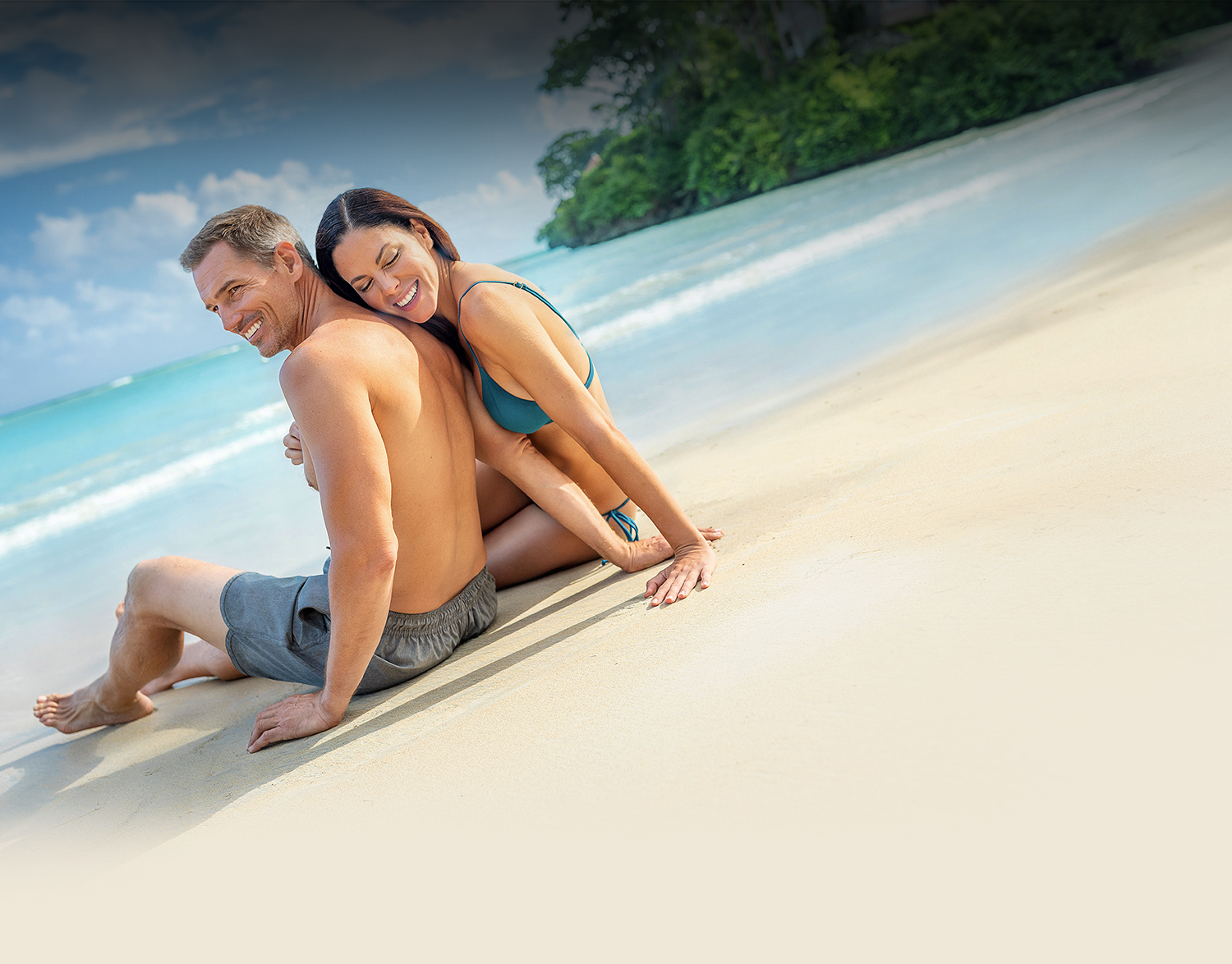 this is where
the fun begins
ocho rios activities
In addition to our exceptional inclusions, your stay at Couples Sans Souci offers a wealth of thrilling activities. Dive into our pristine mineral pool and enjoy the rejuvenating benefits of natural spring water. Frolic in the waves. Explore the coral reefs. Play a round of golf. Take a professional tennis lesson.
In light of current times, dates and times for activities and off-site excursions are subject to change without notice.
ocho rios activities
In addition to our exceptional inclusions, your stay at Couples Sans Souci offers a wealth of thrilling activities. Dive into our pristine mineral pool and enjoy the rejuvenating benefits of natural spring water. Frolic in the waves. Explore the coral reefs. Play a round of golf. Take a professional tennis lesson.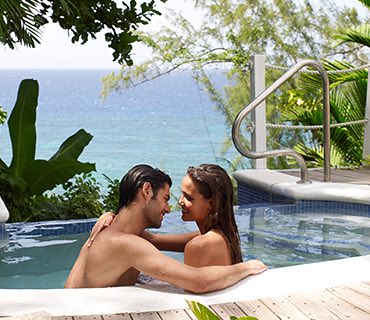 Spa
A haven of serenity, our award-winning spa features an extensive menu of body treatments, facials, beauty services and massage therapies (including aromatherapy and couples massage) that take relaxation to a new level of bliss.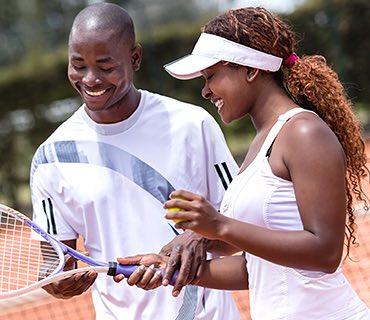 Tennis & Land Sports
Our tennis pros and professional-grade hard turf courts are sure to please even the most passionate tennis player. Sign up for daily private instruction or participate in a group clinic twice a day.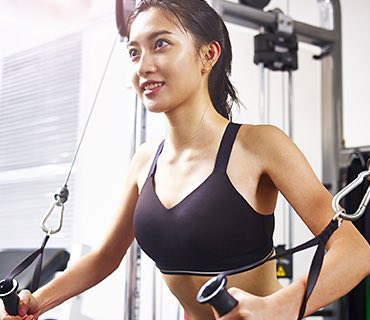 Fully Equipped Fitness Center
Overlooking the mineral pool with a panoramic view of the ocean, our state-of-the-art fitness facility features high-tech cardio machines (including treadmills, ellipticals and stationary bicycles) and free weights, as well as a team of certified trainers.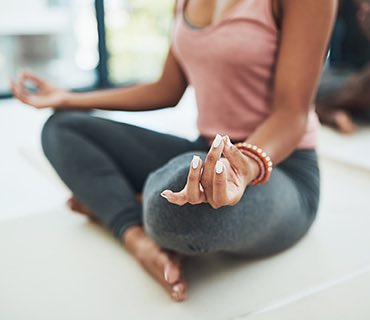 Meditation Classes
Enlighten your senses and find your center with our meditation classes. Embrace your own spirituality through inner peace, leaving behind your stress and awaken your mind and body.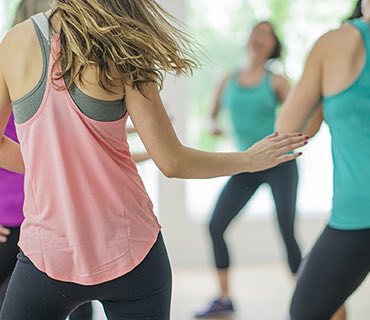 Aerobics Classes
Combine aerobic exercise with stretching and strength training in our fun on-property fitness classes.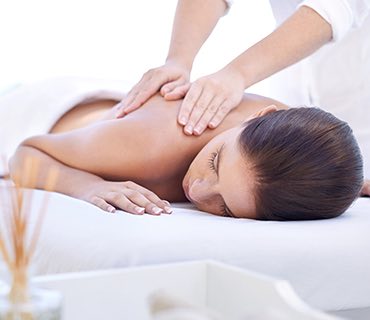 Massage Classes
Our professional massage staff shares tips on the fine art of massage, teaching couples how to give each other this amazing and romantic treat. Classes are offered once per week.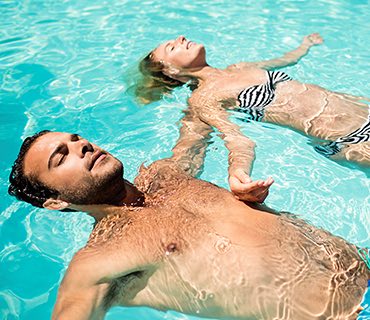 Aquacise Classes
For guests seeking to lessen impact on their bones, joints and muscles, Aquacise fitness is for you. Aquatic fitness utilizes buoyancy to take extra stress and pressure away from stressed areas. Our class exercises range from basic aerobics to resistance training.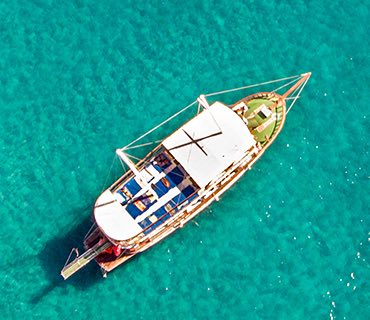 Glass Bottom Boat Tours
Quintessentially Caribbean, a ride aboard our glass bottom boats opens up a whole new world. Explore the natural beauty of the tropics from the turquoise sea — each glass bottom boat tour is a thrilling adventure unto its own.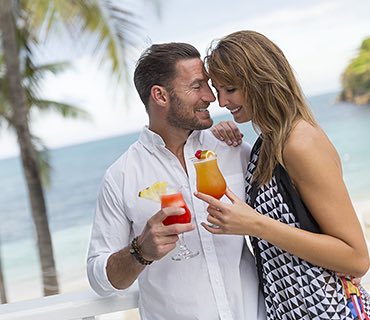 Trip to Margaritaville
Founded by singer Jimmy Buffett, Margaritaville Ocho Rios captures the relaxed and friendly spirit of the Caribbean. Enjoy open-air dining, beach activities and island entertainment. Transportation via the Margaritaville Party Bus and entrance fee are complimentary.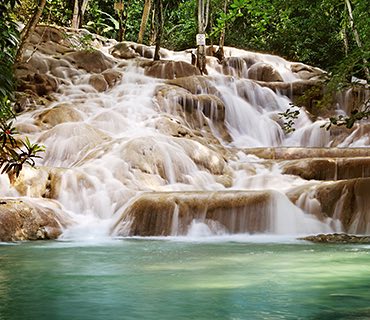 Dunn's River Falls
One of Jamaica's national treasures, Dunn's River Falls is located near Ocho Rios. This complimentary off-property tour is well worth making the time to climb these spectacular natural waterfalls. Reserve at least 24 hours in advance at the Tour Desk.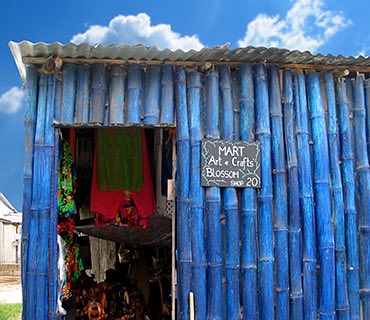 Shopping Tours
Explore island artistry with a visit to a local craft market where you'll find tie-dye, woodcarvings and block printed fabrics crafted by Jamaicans. Included in the tour is a stop at several duty free shops featuring an array of spirits, perfumes and luxury goods.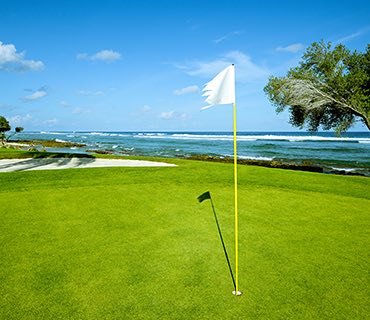 Unlimited Golf
Tee off at Upton Golf & Country Club, one of Jamaica's premier championship golf courses. Our bus picks you up at approximately 8:00am and 11 am and 1and returns to the resort at 1:00 pm and 4pm. Greens fees and transportation are our treat. Private golf lessons with an experienced pro are available for an additional fee. We recommend that guests make a reservation for either course one day in advance. Note: Caddies are mandatory and tipping is customary.
Golf at Upton Golf & Country Club
For guests of Couples Tower Isle and Couples Sans Souci, the Upton Golf & Country Club is a golfer's dream come true. Built in 1951 as a 9 hole course by PK Saunders, the 18-hole par-71 course stretches out over rolling hills of Bermuda grass with striking views of the aqua blue Caribbean and the lush mountain landscape. All of the greens have been recently resurfaced with Tifdwarf Bermuda grass.
Precision is the name of the game on this course. Even without major forced carries and few fairway bunkers, ten holes are flanked by out-of-bounds stakes making each shot a thrilling exercise of skill. Narrow fairways and small drop-off greens add a further level of challenge.
Guests may rent Yamaha golf carts, Adidas golf shoes and Taylor Made RBZ golf clubs at the club's pro shop.
The course rating and slope are as follows:
Blue tees 70.90 rating and 128 slope at 6,404 yards
White tees 69.90 rating and 125 slope at 6,054 yards
Red tees 69.30 rating and 120 slope at 4,961 yards
Rental & Caddy Fees
Mandatory Carts and Caddy Fee of $50 per person must be paid at the resort.

Left and Right handed clubs are available for rental. Taylor Made Clubs are approximately $60.00 for 18 holes.

Adidas Shoes: $16.00, including socks
Please note that the Upton Golf & Country Club only accepts credit/debit cards for payment.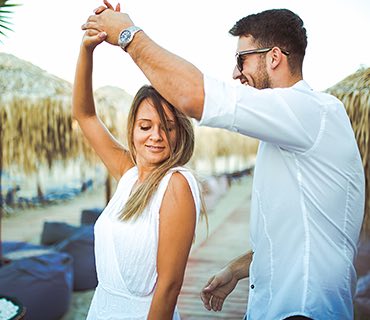 Dance Classes
From salsa to soca to reggae, guests move to the rhythm and dance to the beat during our lively dance classes held throughout the resort. Unleash your inner islander with true Jamaican music!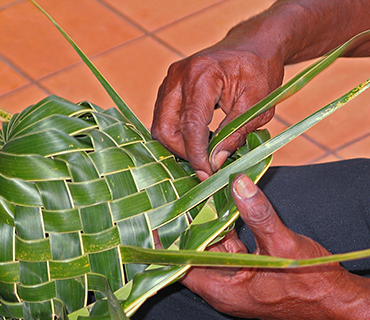 Hat Making Classes
Sharpen your weaving skills and create a straw hat to block the sun and serve as a keepsake souvenir of your stay. Gather on the main beach at 11:30 am on Tuesdays and Saturdays for this fun, laid-back activity.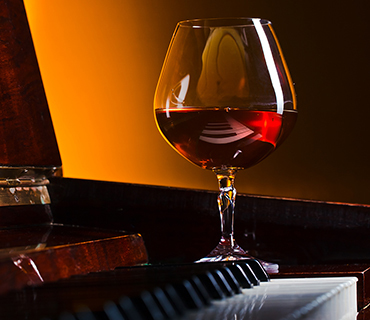 Piano Sing-Alongs
Join our pianist in our piano sing-a-longs every Sunday, Monday, Wednesday and Thursday at 11 pm at the Balloon Bar.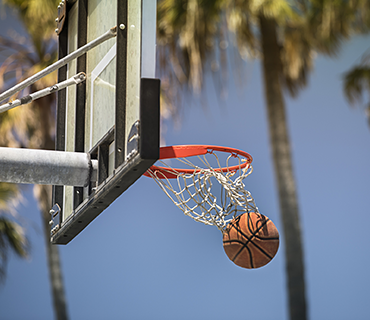 Basketball
Work on your free throw during daily pick-up basketball games outdoors.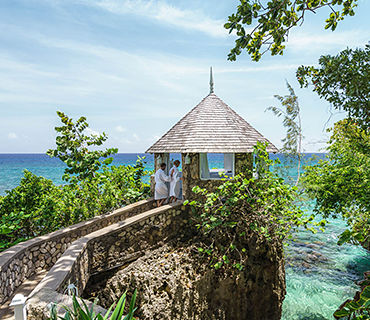 Nature Walks
The resort offers guided morning nature walks through its lush and beautiful grounds, exploring the island's diverse flora and fauna.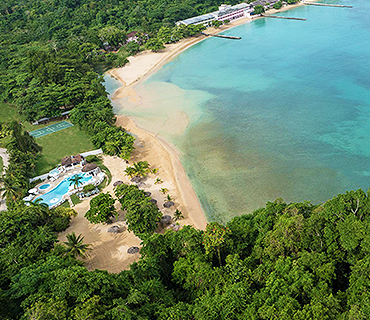 Private Au Nautrel Beach Sunbathing
Couples Sans Souci is known for its exceptional au naturel facilities. Complete with a swim-up pool bar and grill, and jacuzzi, this Sunset Beach is situated on a picturesque crescent beach for the ultimate in camera-free relaxation and privacy.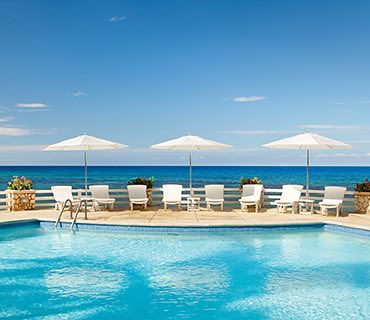 Three Swimming Pools
Enjoy a dip in one of swimming pools. Surrounded by palm trees and chaise lounges, two pools overlook the Caribbean and white sand beach below. Swim up to the bar at the Main Pool or Sunset Beach Pool for cool tropical cocktail.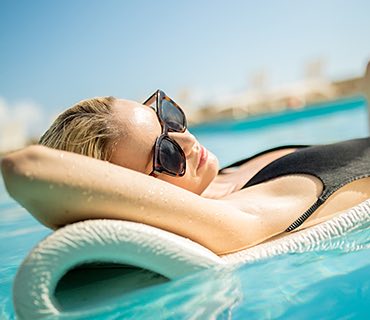 Three Jacuzzis
Three Jacuzzis, including one tucked just a few feet from the Main Pool, invite couples to relax and rejuvenate in a sun-splashed setting.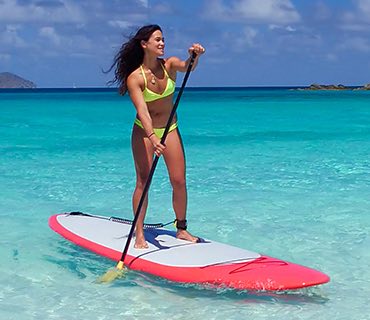 Paddleboards
Try this offshoot of surfing in our calm Caribbean waters. If you're a beginner, start by kneeling on the board and using your arms to propel yourself forward, then graduate to standing and using a paddle to navigate.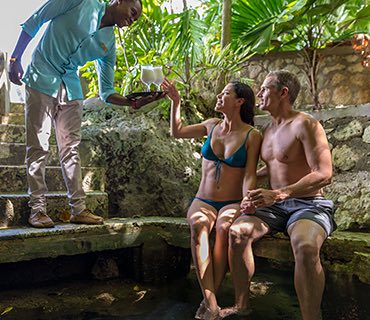 Mineral Grotto
Full of silky mineral waters once thought to have healing powers, this pool sits behind a natural grotto that was once home to Charlie, an ancient sea turtle.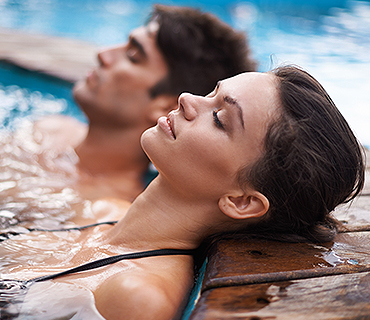 Mineral Spring Pool
Soothe away every stress in our beautiful natural mineral spring pool, which is filled with water from one of the resort's several natural mineral springs. Secluded by the spa area overlooking the ocean, this is hydrotherapy at its best.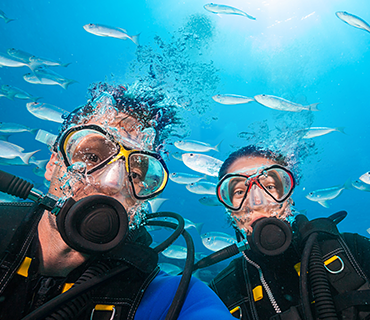 Scuba Diving
/whats-included/scuba-diving
Dive into a world of wonder with our exceptional scuba diving program. Whether you're an experienced diver or just starting out, you'll delight in day and night dives.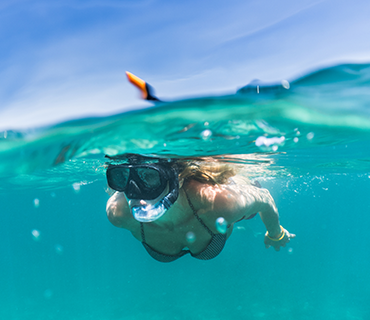 Snorkeling Tours
Take a ride aboard our glass bottom boats for a snorkeling tour to one of 30 different snorkel sites showcasing the island's natural coral reefs. Fins, masks and snorkels are all provided.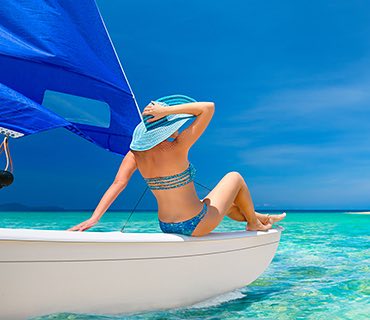 Hobie Cat Sailing
Set sail for an Ocho Rios adventure! Never set foot on a sailboat? Beginner lessons are offered by our Watersports Staff.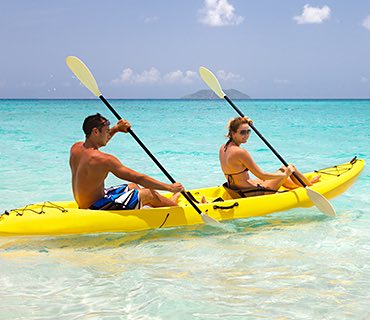 Kayaking
Our fleet of sea kayaks offers optimum speed and grace. Available as a single or two-person hull, each kayak has a closed-deck design with self-draining scuppers to keep you dry and comfortable out on the water. Lessons and equipment available daily.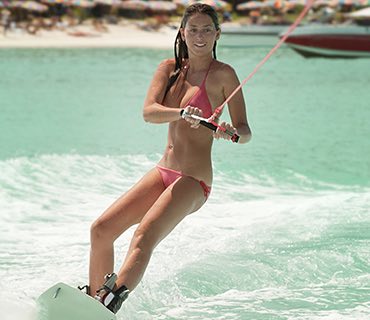 Water Skiing
Our high-powered water ski boats ride smoothly over the waves, pulling guests behind them on two skis, a mono-ski or a wakeboard. Expert instruction available. Water skis, wakeboards and life vests are included.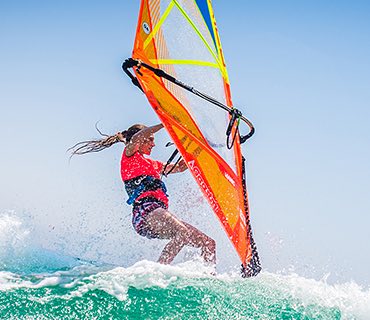 Windsurfing
The steady Caribbean breeze creates the perfect conditions for windsurfing. Our state-of-the-art fiberglass windsurfers are perfectly sized so everyone can enjoy the experience. Equipment, life vests and lessons (9:00 am – 4:00 pm) offered daily.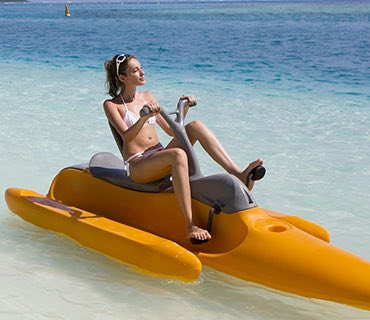 Hydro Bikes
Pedal your way across the seas on one of the resort's hydro bikes. Enjoy a great bike workout while enjoying the sun and scenery.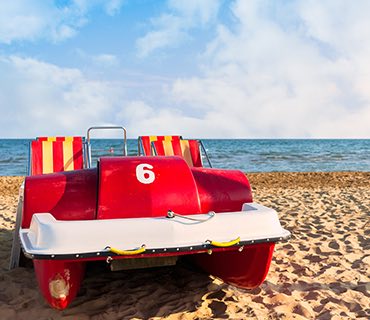 Pedalos
Grab your partner and hop aboard a pedalo, a couple-powered watercraft that's great for a quick workout or leisurely coastline cruise.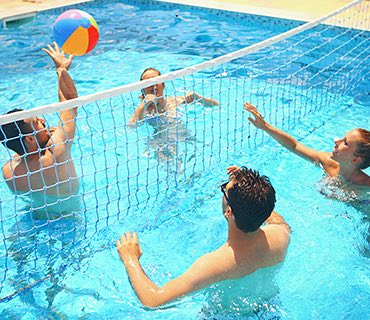 Pool Volleyball
Head to the Main Pool for a casual or competitive game of pool volleyball. Create a team with a few of your favorite couples or check with the Entertainment Desk for times and teams.
Health & Wellness

Wellness awaits at Couples Sans Souci. From our award-winning Spa to fitness classes, staying fit has never been so fun.

Learn More