Close
Book On
Couples-resorts.co.uk
For the Best Price
Free
Excursions
Free Golf
+ Scuba Diving
+
No Fault Cancellation
Roundtrip transfers
from the airport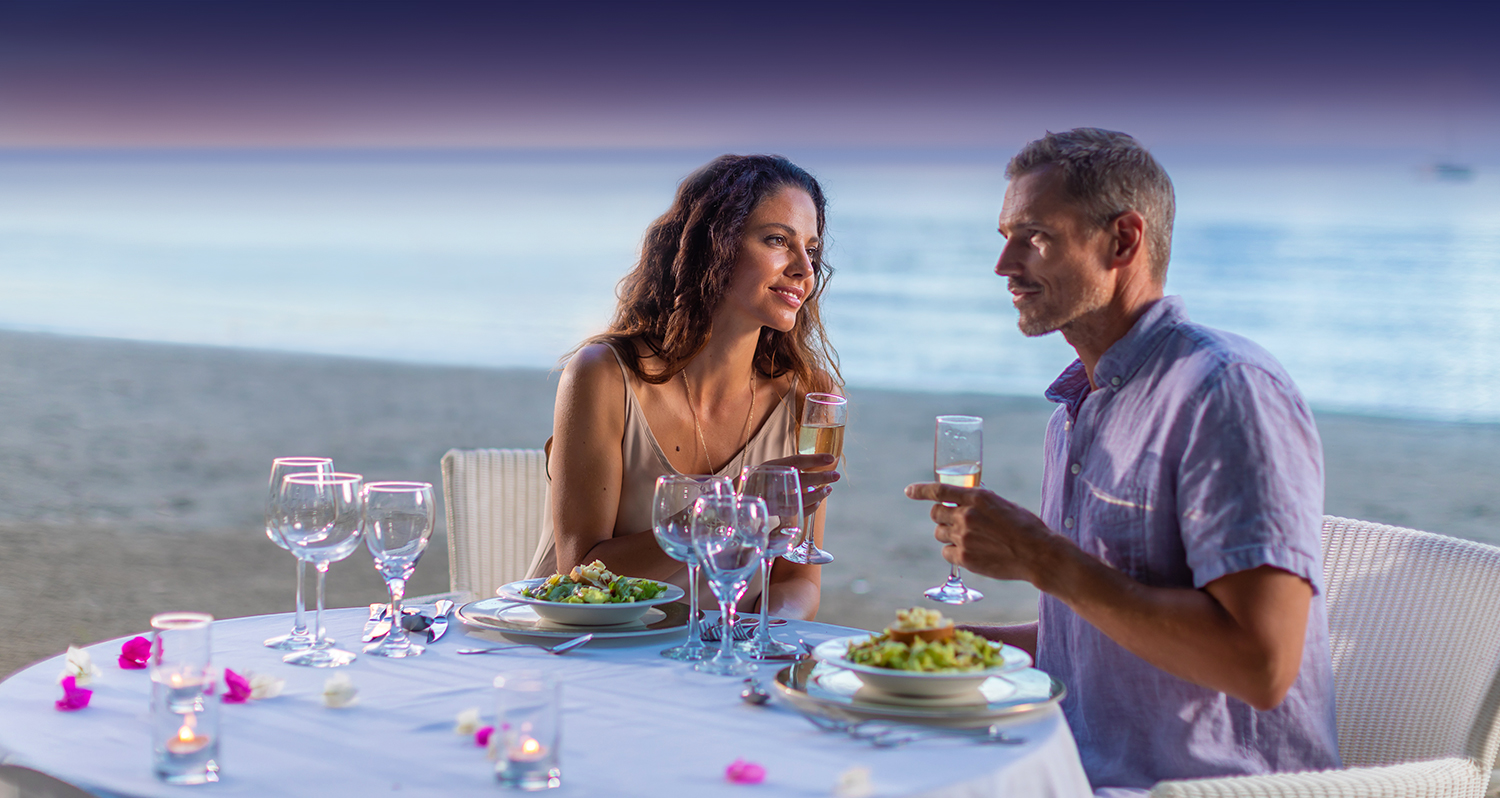 Private Dining
Seaside Tables For Two in Jamaica
For the ultimate in romance, allow our talented culinary team to create an unforgettable private candlelit meal for you under the stars, complete with our own private label wine and three delectable courses of Caribbean-inspired cuisine, finished off with the soothing sound of waves lapping on the beach.

To reserve your private dinner, contact the Romance Concierge in advance, visit the Guest Services Desk upon arrival, or book online. Priced $250 per couple, our private dinners are offered nightly on the beach, treehouse and in the garden gazebo
between 7:00 pm and 8:00 pm.
ISLAND MENU
APPETIZER
Choice of one of the following:
THAI STYLE FISH CAKES
Roasted Corn and Peppers, Lime Yogurt, Pickled Cucumber
TRIO OF SEAFOOD
Coconut Shrimp Ceviche, Chardonnay Poached Lobster, Smoked Salmon, Limes, Caper Mustard
MUSHROOM AND SPINACH LASAGNE
WARM SMOKED DUCK CONFIT
Sweet Potato Mash, Burnt Orange Glaze
SECOND COURSE
Choice of one of the following:
CRUNCHY GARDEN GREENS
Tomatoes, Snipped Herbs, Pear, Crumbled Blue Cheese, Garlic Croutons, Roasted Onion Balsamic Dressing
FIRE-ROASTED TOMATO BISQUE
LEMON GRASS AND ROASTED CORN CHOWDER
ENTRÉE
Choice of one of the following:
PECAN CRUSTED SALMON FILLET WITH GARLIC SHRIMP KEBAB
Thyme Grilled Vegetables, Mashed Green Bananas, Tomato Beurre Blanc
GRILLED BEEF TENDERLOIN
Red Onion Chutney, Flash Seared Greens, Potatoes, Merlot Beef Glaze
HAZELNUT CRUSTED LAMB RACK
With Rosemary Jus, Yam Ratatouille, Braised Greens
ACKEE RISOTTO
Pumpkin Kibbeh, Organic Pesto Grilled Tofu
DESSERT
Choice of one of the following:
MOUSSE AU CHOCOLAT
Rum-Macerated Fruits, Toasted Almond Brittle
CARAMELIZED BANANA CHEESECAKE
Brown Rum Anglaise, Black Pepper Filo Wafer
ORANGE BURNT CRÈME BRULEE
Hazelnut Biscotti, Candied Fruit Kebab
VEGAN MENU
APPETIZER
CARIBBEAN ANTIPASTI PLATE
Grilled Veggies, Olives, Artichokes, Stuffed Grape Leaves, Tomato Bruschetta
SOUP
ROASTED PUMPKIN & LEEKS
ENTRÉE
LENTIL & ZUCCHINI MOUSSAKA
DESSERT
LEMON TAPIOCA PUDDING