Couples Resorts
Close
Book On
Couples-resorts.co.uk
For the Best Price
Free
Excursions
Free Golf
+ Scuba Diving
+
No Fault Cancellation
Roundtrip transfers
from the airport
Walk down the aisle at Couples Tower Isle!
Wednesday, Jan 23, 2013
After years of dreaming and waiting for the most beautiful wedding, it's time to live the picture-perfect day which will leave an imprint on the hearts' of all your guests hearts; at the intimately romantic Couples Resorts.
Celebrating your wedding day at Couples Resorts guarantees you a stress free and truly rich experience, indulge in a bridal massage and/or facial on the morning of your wedding- for a radiant glow; or a sip on a glass of sparkling wine as you get ready for your ceremony. With many wedding packages and four idyllic resorts to choose from, let your imagination run wild as your own personal wedding planner will cater to all your needs.
Imagine walking up a golden aisle adorned with exotic and perfumed flowers as the warm sand touched your toes, with the sweet sounding sea whispering in your ears and the gentle breeze tickling you as you see the love of your life, on the greatest day of both your lives.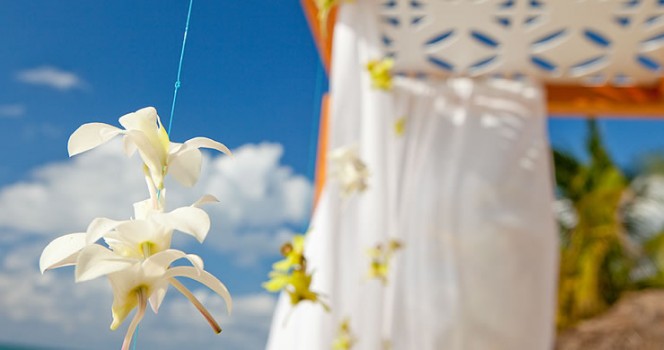 Experience the grandeur of your own private island affair at Couples Tower Isle, recite your vows as your guests watch on in admiration, and later enjoy the open bar* before savouring in a delicious designer wedding cake and delectable cuisine.
Your most sensational wedding experience at the romantic Couples Resorts is made even better with celebratory gifts all-inclusive to your wedding package, the Couples Tower Isle wedding package Jamaica includes; a personal wedding planner, a rehearsal dinner, private Mento band* at your reception, fresh bridal bouquet and groom's boutonniere made from tropical flowers, roses or orchids, a deluxe 2 hour photo-shoot, engraved champagne flutes and "Just Married" breakfast in bed to name a few…
With wedding packages to accommodate every budget Couples Resorts can create a seamless wedding day and our all-inclusive honeymoon resorts, are full of romance and magic, just what you need to create everlasting memories…