Couples Resorts
Close
Book On
Couples-resorts.co.uk
For the Best Price
Free
Excursions
Free Golf
+ Scuba Diving
+
No Fault Cancellation
Roundtrip transfers
from the airport
Top 10 Things to do in Ocho Rios
Tuesday, Sep 12, 2017
Uncover the top 10 things to do in Ocho Rios
Ocho Rios is a beautiful port town on the north coast of Jamaica. It boasts everything your heart desires, from Lush gardens and lazy rivers, to high art and impressive beaches. Ocho Rios is also the launching point for adventures such as dolphin encounters, zip lining and river tubing. With so much to discover in this incredible destination, we have created a list of the top 10 things to do in Ocho Rios to ensure you experience the best that it has to offer!
Coyaba River Garden and Museum
Brush up on your Jamaican history in a lovely garden setting. The Coyaba River Garden and Museum, located in Shaw Park Estate, is a small local history museum which features exhibits of rare maps and artefacts from Jamaica's past.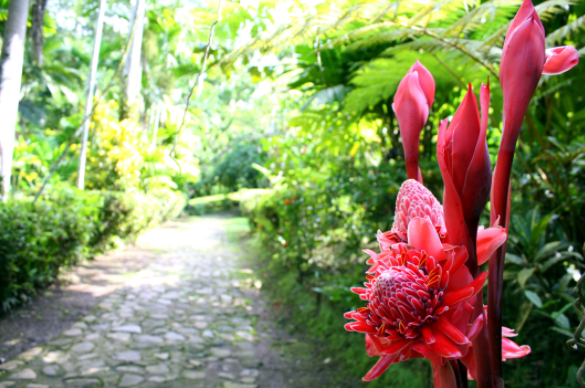 Explore the beautiful garden and the nearby creek filled with turtles and colourful fish.
Nine Mile
Famous for its music, the small village of Nine Mile in Saint Ann Parish is the birthplace and final resting place of reggae legend, Bob Marley. Guided tours take visitors through a small museum and the grave where Marley is buried. This is regarded as one of the best things to do in Ocho Rios. Sightseers learn about the Rastafarian religion and hear fascinating stories of Marley's extraordinary life. A visit to Nine Mile is a must!
 Mahogany Beach
A visit to the charming Mahogany Beach is one of the best free things to do in Ocho Rios. This beach is popular among travellers and the locals.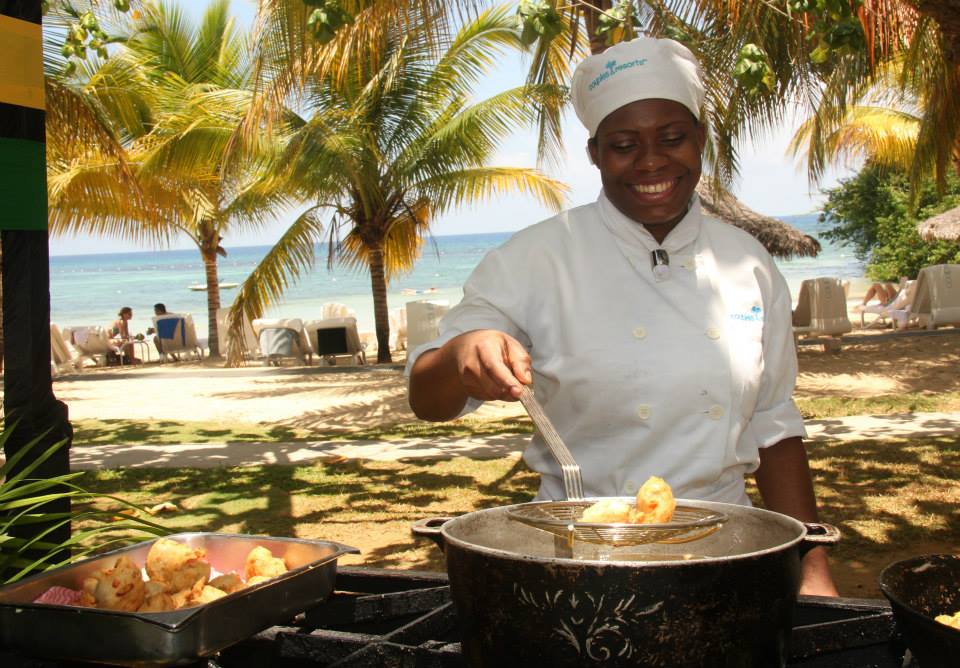 Watch the beach come alive on the weekends with music, smells of jerk cooking and fun games. This stunning beach is a must see!
Dolphin Cove
Dolphin Cove is a spectacular place for animal lovers to visit. This popular space is a three-acre marine park offering dolphin, shark, and stingray encounters. Dolphin Cove consists of a natural cove surrounded by forest, where visitors can kayak or snorkel.
Dunn's River Falls
Dunn's River Falls is one of Jamaica's national treasures. Put on your water shoes and trek to the top of the falls for the most remarkable views of the surrounding landscape.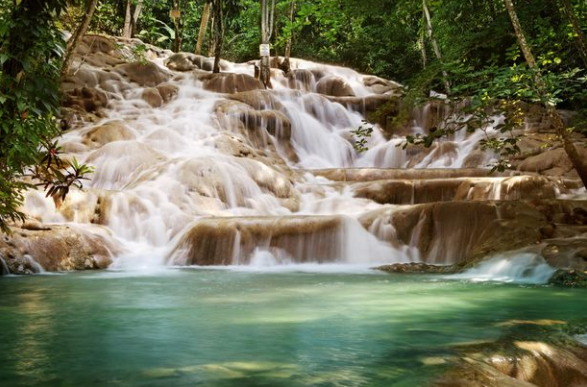 Firefly – Top 10 Things to do in Ocho Rios
Firefly is the hilltop home and final resting place of the famous playwright, Sir Noel Coward. Located in Grant's Town, this simple one-bedroom home was built high on a hill above Coward's original home, Blue Harbour, and his photos, paintings, and pianos are still in place. Today visitors can tour the home with his artwork and enjoy panoramic views of Ocho Rios.
Mystic Mountain
Mystic Mountain is one of the most popular attractions in Ocho Rios. Visitors travel up the mountain on a chairlift and enjoy spectacular views of the cruise ship port and coastline.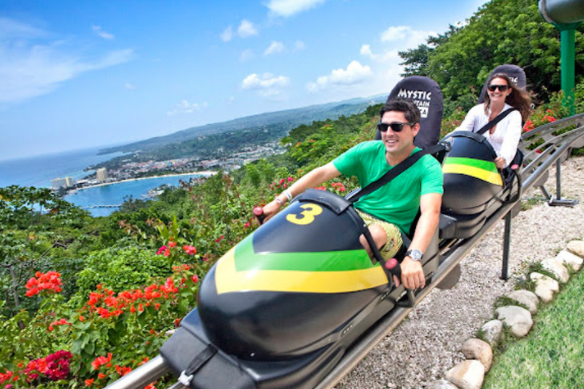 Once at the top, adventure seekers can cruise down the mountain on Bobsled Jamaica, a two person roller coaster ride, or fly through the rainforest treetops on the zip-lines. Guided nature walks and an infinity pool with a waterslide are among the other things to do at this amazing park.
Margaritaville
Located on the main street in Ocho Rios, this restaurant and bar is one a great place to visit at night. Margaritaville offers a full menu of international favourites, such as pizzas, burgers and Jamaica's famous seafood and jerk. Enjoy the bar at night with live bands and performances for a fun evening with your loved one.
White River
At White River, nature lovers can relax on tubes as they drift along the crystal clear water over gentle rapids. This is a calming trip and a great way to unwind and enjoy the exotic scenery. Take in the beautiful surroundings as you glide along the river and enjoy looking for new species in the lush foliage fringing the river.
Blue Hole
The Blue Hole is situated in the mountains outside Ocho Rios. This is a stunning spot that is perfect for nature lovers. The Blue Hole features refreshing crystal blue pools fed by a series of waterfalls.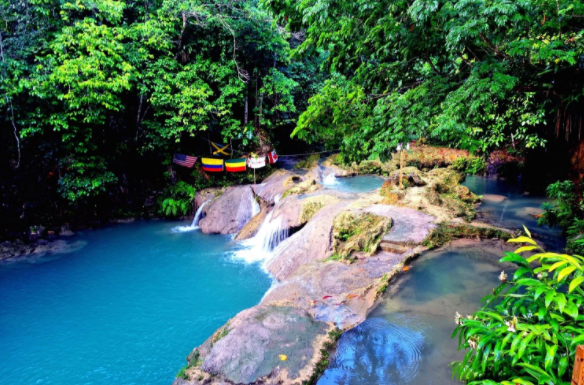 Visitors can swim, jump, dive and even swing off ropes into the water. This is one of the best excursions to go on during your holiday to Jamaica!
Thinking of visiting Ocho Rios? Tweet us @CouplesUK for more information.