Couples Resorts
Close
Book On
Couples-resorts.co.uk
For the Best Price
Free
Excursions
Free Golf
+ Scuba Diving
+
No Fault Cancellation
Roundtrip transfers
from the airport
Negril's natural beauty…
Friday, Jan 4, 2013
Known for its endless beauty, clear waters, laid-back spirit and majestic marine life, Negril is an oasis of relaxation. Spread throughout seven miles of pristine sands this picture perfect location is open to endless opportunities…
Negril's green canvas of wilderness is home to some of Jamaica's most prestigious nature reserves and gardens; the famous Royal Palm Reserve stretches a lush 300 acres and inhabits more than 114 rich and regal plants. The vibrant and friendly Parish makes it perfect to celebrate Caribbean culture through spontaneous music parties, which are usually hosted along the coast and cliffs of the island; it's a chance for all members of the society to mingle amidst the wonderful sunsets.
Negril's 'irie' persona is represented through its popular attractions such, Mayfield falls is perfect for camping, hiking and picnicking; the cascading waters and natural Jacuzzis are an amazing way to spend your afternoon relaxing. Free yourself from fear as you soar through the air splashing into the Caribbean Sea from the edge of a cliff, an adventurous experience for sure!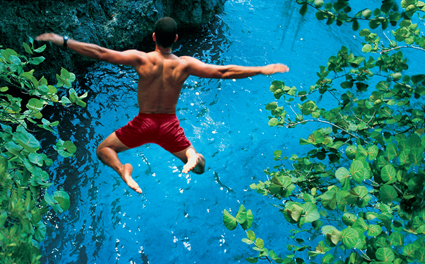 With such stunning surroundings Negril is nature's essence of beauty, imagine walking along the white sands hand in hand with that special someone, as the waves brush your feet… With a Couples Resort all-inclusive holiday Jamaica, you can choose from two of our wonderful 5* resorts in the heart of Negril.
Couples Swept Away is located on the purest of Jamaican beaches, truly the most idyllic recreation of heaven on earth; spend your mornings in an oceanfront cabana, your afternoons indulging in the many rejuvenating treatments and your evenings enjoying the most delicious cuisine.
Couples Negril allows you to be one with nature, with an outburst of colours this is an adventure waiting to be explored. Snorkel or scuba dive through the bright corals, coves and reefs discovering the amazing marine life, relish freshly caught seafood and spend your evenings at beach bonfires.
At Couples Resorts we take pride in creating everlasting memories for you and your loved one, offering an excellent service without intruding on you private moments your all-inclusive holiday Jamaica is sure to be your best romantic escape yet…