Couples Resorts
Close
Book On
Couples-resorts.co.uk
For the Best Price
Free
Excursions
Free Golf
+ Scuba Diving
+
No Fault Cancellation
Roundtrip transfers
from the airport
Award Winning Jamaican Cuisine
Monday, Nov 5, 2012
Award Winning  Jamaican Cuisine
Celebrations were in full swing this weekend for our culinary teams across Couples Resorts; it was the annual 'Tastes of Jamaica' competition, this two day event is a key date for most master chefs the Caribbean. After months of preparation practising their techniques, and perfecting the many mouth-watering recipes, Couples Resorts deservingly took away five awards!
Congratulations are in order Couples Sans Souci, where Theresa Clarke won gold for Pastry Chef of the Year, along with award winners Andre Simpson and Craig Wilson. Couples Tower Isle also won – congratulations to Shekera Cassie and Errol Sewell with a spree of bronze, silver and gold accolades to celebrate with!  We couldn't be prouder of each and every member of our team; it's down to them that we have achieved so much this year at Couples Resorts.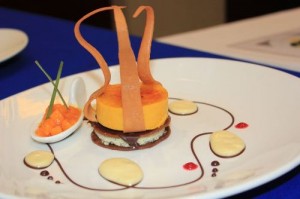 Spoiling yourself has never been so easy, relish luscious flavours selected by our award-winning chefs; our exotics menus are made-up of the freshest ingredients which are nurtured on the island. We source local produce from farms and fisherman, our herbs and spices are grown in the resorts lush green gardens, for an absolute authentic Jamaican taste. The many dining options are just as luxurious as the menus; whether you choose to experience a secluded beach dinner or a candlelit dinner aboard a catamaran, romance is embedded within the Couples experience.
Dreaming about paradise? You could wake up in one of our fabulous resorts, with everything included in the price you pay; leaving your purse at home has never seemed so stress free. Book now and experience award winning Jamaican cuisine, the Couples Resort way.