Couples Resorts
Close
Book On
Couples-resorts.co.uk
For the Best Price
Free
Excursions
Free Golf
+ Scuba Diving
+
No Fault Cancellation
Roundtrip transfers
from the airport
All-Inclusive Jamaican Wedding
Friday, Nov 30, 2012
Magical Moments Made Easy…
There are some moments for which we wait our whole lives; the perfect second in time when your partner says I love you, holding your child for the very first time as they take their first few breaths in this world, or perhaps that perfect moment when your partner looks at you and say's 'I Do', at Couples Resorts these moments are as effortless as they are enchanted. We are after all the world's most romantic resorts.
Your wedding day is usually one of the most memorable days of your life, and here at Couples Resorts in Jamaica we'd like to make it one of the most magical too. Imagine indulging in organic spa treatments on the morning of your big day, then walking through a boutique of exotic flowers towards an audience of smiles in your choice of location. With five exquisite wedding packages and four stunningly seductive resorts to choose from, you can be sure to find something to suit you and your partner.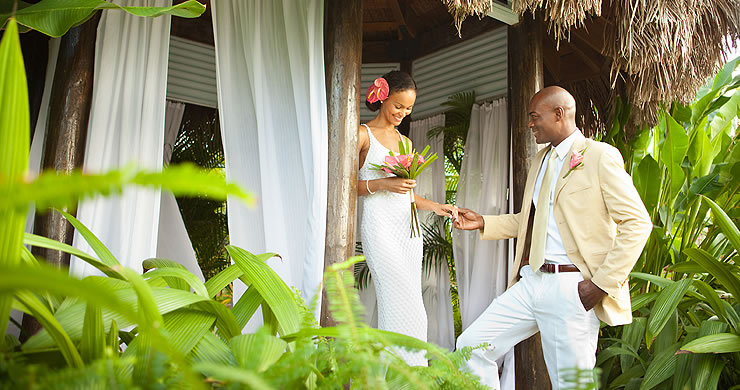 The Caribbean thrives on its picturesque locations, combining shimmering white and golden sands, turquoise waters, tropical temperatures and lush greenery. Jamaica's colourful sunsets create the perfect backdrop for your wedding; whether you choose to have your ceremony in a Cliffside Gazebo with your friends and family, a private Beach Wedding for two, or a beautiful ceremony amongst our fragrant foliage; our dedicated wedding planners can help plan your special day from the most extravagant touches to the finest of details.
With your all-inclusive Jamaican wedding you don't have to worry about a cake, flowers, food, music and even your drinks everything is included in the price! The choices are endless and the decisions are you own, with our expertise and your choices you can perfect your wedding day just the way you imagined.
Click on the link to our extraordinary range of wedding packages: http://www.couplesresorts.co.uk/weddings-honeymoons/wedding-packages/