Couples Resorts
Close
Book On
Couples-resorts.co.uk
For the Best Price
Free
Excursions
Free Golf
+ Scuba Diving
+
No Fault Cancellation
Roundtrip transfers
from the airport
5 Mouth-Watering Jamaican Dishes
Friday, Apr 5, 2013
When you think of Jamaica, the first thing that springs to mind is the fiery and flavoursome cuisine. Classic dishes like Jamaican jerk chicken have become international favourites, and their golden patties are light-years ahead of their Cornish equivalents.
It's possible to eat yummy Caribbean food in the UK. But the problem with getting hold of key ingredients like goat's meat and fresh ackee makes it more than worthwhile to go to Jamaica in person. After all, the food tastes better as part of a full sensory experience taking in the sights, smells, sounds and colours of Jamaica.
Ackee and Saltfish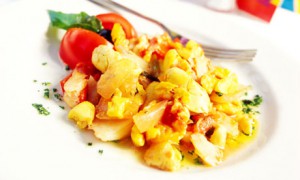 Ackee and saltfish is Jamaica's national dish and ackee its national fruit. The seed pods of this beautiful fruit (little known and hard to source outside of the Caribbean) turn bright yellow when cooked and have a creamy texture a bit like scrambled eggs. Add them to the saltfish (salted cod) at the last minutes of cooking to make this classic dish. Ackee and saltfish is often served with fried dumplings or boiled bananas as part of a calorific breakfast – the Jamaican equivalent of a full English. Pick up some takeaway from a roadside shack for an authentic dining experience.
Jerk Chicken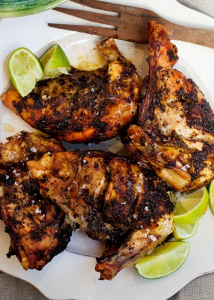 The mother of all Jamaican dishes, jerk chicken takes its name from a unique seasoning made from hot peppers, cinnamon, cloves, ginger and thyme. The flavour is all its own and can be added to pork or just about any other meat if you prefer. Apply a wet marinade for a juicier meat or a dry marinade for a more traditional, crustier jerk. If you're feeling brave, you can turbo-charge the eating experience with some scotch bonnet hot sauce made from the infamous Caribbean red pepper. Jerk chicken can't be beaten from an authentic jerk hut in Jamaica but also works well on the barbeque here in the UK.
Jamaican Beef Patty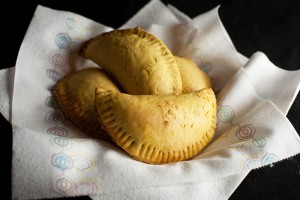 If you're looking for a quick fix on the go, nothing beats a Jamaican beef patty. This golden yellow treat takes its inspiration from the traditional British pasty which inspired it in colonial times. Its distinctive colour comes from turmeric seasoning, while the spicy ground beef filling packs more of a punch than anything from your local Greggs. You can also find patties stuffed with chicken, fish, lobster or vegetables. Eat them on their own or do what a lot of Jamaicans do and stuff them in some coco bread (that's bread sweetened with coconut milk) for a cheap and filling meal.
Curried Goat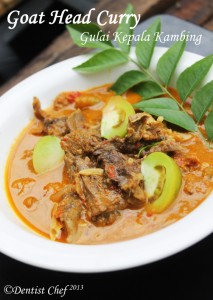 Once eaten only at special family events like weddings, curried goat is becoming an increasingly common dish all over the island. It's the reason why many Jamaican families keep a goat or two in their backyard. If you haven't tried it, goat tastes a bit like a leaner and gamier lamb, making it an incredibly healthy option. In the UK, where goat's meat is hard to come by, mutton can be used as an almost-as-good substitute. Jamaican curry is a lot milder than its Indian counterpart, with coconuts and raisins added to give it a sweet, tangy taste. Serve with rice to soak up the curry sauce. Yum!
Roasted Breadfruit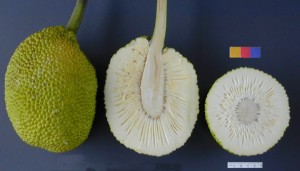 One of the island's most popular side dishes, roasted breadfruit can be eaten as an accompaniment to practically anything. It's a bobbly green fruit with white flesh and a mild flavour a bit like freshly baked bread when cooked. One of its beauties is it absorbs the flavours of other ingredients, and I recommend cooking it in foil on an open fire for a smoky taste. Mix the roasted breadfruit with coconut milk for a quick and easy dessert.