Couples Resorts
Close
Book On
Couples-resorts.co.uk
For the Best Price
Free
Excursions
Free Golf
+ Scuba Diving
+
No Fault Cancellation
Roundtrip transfers
from the airport
10 Best Scuba Diving Sites in the Caribbean
Friday, Apr 19, 2013
The Caribbean is made up of over 7,000 tiny islands, each with their own characteristics. Some offer underwater marine parks and others provide divers with some of the most exotic sea life known to man. This unique variety means that there's scuba diving for all abilities, from gentle beach dives to challenging trenches and walls. So whatever you're looking for, and whatever your diving ability, you're guaranteed to find it at one of the Caribbean's tropical diving sites. So double check your apparatus, defog your mask – it's time to dive in!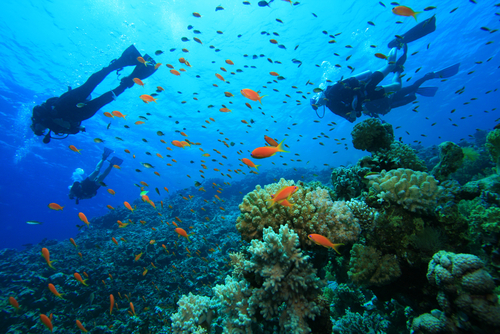 1. Bloody Bay Wall, Little Cayman, Cayman Islands – Photography Paradise
If only for the quality of the water, The Bloody Bay Wall is one of the clearest and calmest dives out there, and visibility frequently exceeds 100ft. The sunlight illuminates the spectacular tiny reef fish and impressive big-lipped groupers. The clear waters also improve your chances of spotting a turtle or barracuda. If you enjoy taking photos of the sea life you find on your dives then this is the spot for you.
2. Maycocks Bay, Barbados – Total Caribbean Adventure
Crystal clear water with long stretches of beautiful coral and white sands: Maycocks Bay is everything you could wish for from a secluded dive site. As well as being home to a huge array of giant puffer fish, rays and barracudas, there's also a 169ft shipwreck lying perfectly intact at the south end of the bay. Maycocks is considered to be one of the Caribbean's best dive locations for beginners, although the bay can often turn vicious during windy or stormy weather. If you're not confident diving in stormy seas, perhaps try your hand at surfing the waves instead – now that's a Caribbean adventure!
3. RMS Rhone wreck, British Virgin Islands – For Virgin Wreck Divers
It was during the devastating hurricane of 1867 that the Royal Mail Steamer, RMS Rhone, was sent to the bottom of the Caribbean seas. In contrast to the disappointment that was felt at the time, this wreck is now considered globally as one of the best wreck dives in the Caribbean. In fact, it's loved so much that it is protected and has even been officialised as an Underwater National Park. Whether you're a total wreck diving virgin or experienced scuba diver, RMS Rhone has to be seen to be believed.
4. Negril, Jamaica – Go Wild
Nicknamed 'The Capital of Casual', there's nothing casual about Negril's dive sites. There are chambers and caves full of reefs and yellow coral sponges, all of which are inhabited by eels, octopi, sting rays, turtles, barracudas and the occasional nurse sharks. Don't worry, they don't eat humans. For something a little less "wild", you can enjoy a gentle dive at Awee Moway, a shallow reef where the resident guides have somehow managed to tame the stingrays. If you're lucky you'll also get a chance to see one of the eagle rays that make an appearance during the night dives.
5. Basket Reef, Montego Bay, Jamaica – Jamaica's First Marine Park
World-renowned for its dramatic wall dives, Montego Bay in Jamaica is an ocean of rainbow colours, sponges and corals. Although one of many, Basket Reef is the most popular of the Marine Park's dive sites and was named after its giant basket sponges that dominate the local plant life. Montego Bay's wall dives start at around 50ft but drop dramatically down to 150ft+! The corals attract all the usual suspects such as parrot fish and handsome black durgons, but you may also be lucky enough to play with dolphins and sea turtles. Although Basket Reef offers something for all levels and abilities, the walls make it an ideal spot for experienced divers to practise their skills.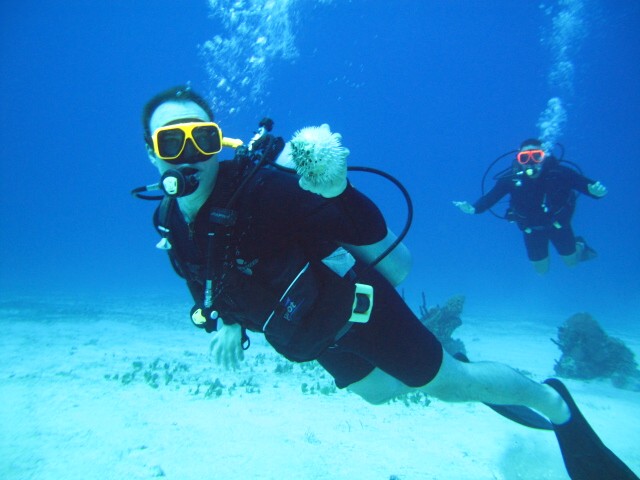 6. Carlisle Bay, Barbados – Wreck Dive Heaven
The Eilon, the C-Trekan Fox, The Berwyn and the Bajan Queen wrecks are all located in Barbados's ideal diving spot. The easy access and eclectic sea life makes Carlisle Bay an ideal spot for beginners. Crazy seahorses can be found dancing around brightly-coloured reef fish, whilst eels and barracudas whiz through the clear waters. In fact, if you're particularly interested in wreck diving, this is one of the best places on earth to do it.
7. Walker's Cay, Nassua, Bahamas – Dive with the Sharks
Looking for a dramatic diving experience? Walker's Cay is a small, 3ft-deep area with a white sandy bottom and a border of coral reefs. Better still, the waters are full to the brim with tame (not man-eating) reef sharks that you can watch being fed by the local dive masters. As well as being intensely beautiful, Walker's Cay offers a diving experience that will stay with you forever.
8. Grand Cayman, Cayman Islands – Learn to Dive in Heaven
As the name suggests, Grand Cayman is the biggest of the Cayman Islands. This phenomenal Caribbean dive site is home to some 40 dive operators that can provide everything you need to experience the 175 dive sites located off the island. You'll discover Stingray City, a perfect 12ft dive that is fun and easy for all levels, and the more challenging wall dives which attract parrot fish and garden eels. Whether you're a total novice or an experienced diver, Grand Cayman will provide you with ideal conditions.
9. Mona Island, Puerto Rico – Like the Galapagos Islands but Warmer
Surrounded by the continental shelf on three sides, Puerto Rico has astonishingly beautiful reefs, caves and trenches that attract a wide selection of sharks and whales. It's not the quickest spot to get to as it's a 50-mile ride to the point where the Atlantic Ocean meets the Caribbean Sea. To the south of Puerto Rico the continental shelf drops off for several miles or so, creating an imposing 20-mile wall. Praised for being as beautiful as the Galapagos Islands but with warmer water, this is perhaps one of the most comfortable dive spots to hone your advanced diving skills.
10. St Croix, US Virgin Islands – No Fuss Diving
St Croix offers a fantastic taste of all kinds of diving. There are easy-going beach dives, wreck dives, night dives and wall dives – pretty much every kind you could wish for. It doesn't have the world-renowned status that many other Caribbean dive sites enjoy, but this just makes it a less commercial, no fuss kind of spot to get stuck into what you love most, diving!